Last week, my early morning proofreading was being well enhanced by good hazelnut coffee and near-solitude when the exuberant foursome burst through the café door. Their boisterous laughter and matching bright pink T-shirts — as purposefully designed — drew my quick attention.
On the front of each shirt was the digital image of one of the four delightful women along with the bold and widely-used words: "Lordy, Lordy, Lisa's 40." As if that was not embarrassing enough to the "honoree," one woman turned to me, a stranger, pointed to her friend and exclaimed: "She's 40 today!"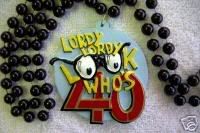 A big laugh followed from the others, and I offered my congratulations and best wishes to the embarrassed woman. Soon loaded with coffee and pastries the four friends were out the door for an early start to what was obviously a big, well-planned day to mark a personal milestone.
Life's important transitions — whether the joyful celebration of a newborn, the tragic loss of a loved or the mixed-emotions of a birthday that ends in a zero — are better experienced when surrounded by family, friends and a community of faith.
When I think about graduations, marriage, the birth of our daughters, the deaths of my parents and other significant passages of life, there are faces of faithful friends and family that come clearly into focus with each episode. Their presence and encouragement were comforting and reassured me of a divine presence as well.
While over the last decade my appreciation for solitude has grown significantly, I am always grateful for those timely interruptions — such as the one in the coffee shop last week — to remind me that the road of life is not designed to be traveled alone.
There are moments when we need the company of fellow life travelers — willing to embarrass us on significant birthdays and embrace us in times of sorrow.
Executive editor / publisher at Good Faith Media.